Eduardo Cerna, Feb. 3, 2020
AI to detect adversary effects in medicines, the US earmarks new AI/Quantum investment and more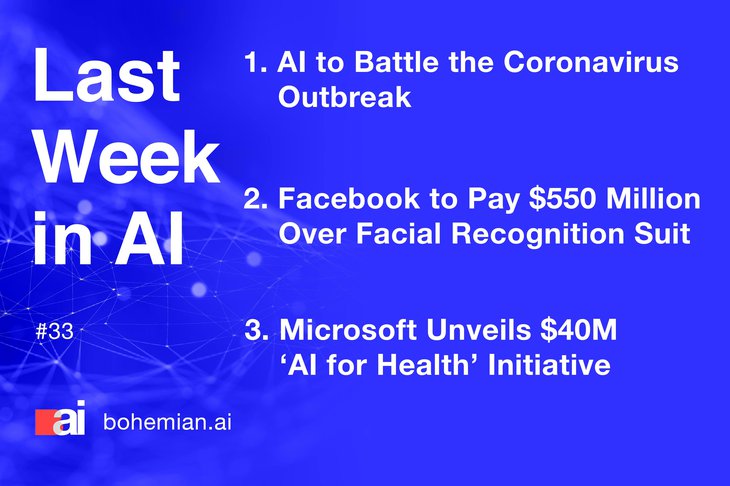 AI to Battle the Coronavirus Outbreak
Tracking new illnesses around the globe is a delicate task, and gathering information about them can be difficult. New AI technology, as the one being deployed by Canadian company BlueDot, automatically mines through news reports and global online content, helping experts recognize anomalies. BlueDot notified its customers about the new form of coronavirus at the end of December, days before both the US Centers for Disease Control and Prevention (CDC) and the World Health Organization (WHO).
Read more at: Vox
Facebook to Pay $550 Million Over Facial Recognition Suit
Facebook agreed to pay $550 Million to settle a lawsuit over its use of facial recognition in its auto-tag feature. This comes as yet another major blow to the company over user privacy concerns, further tarnishing its reputation.
Read more at: The New York Times
Microsoft Unveils $40M 'AI for Health' Initiative
Microsoft has recently unveiled a 5-year plan as part of its 'AI for Good' initiative. The company will invest $40M to fund AI research to improve the health of those less fortunate. Citing that modern healthcare is unevenly distributed, it aims to work with non-profits worldwide to bring technological solutions to remote places where bringing outside specialists is cost prohibitive.
Read more at: TechCrunch